Healthify Your Thanksgiving Feast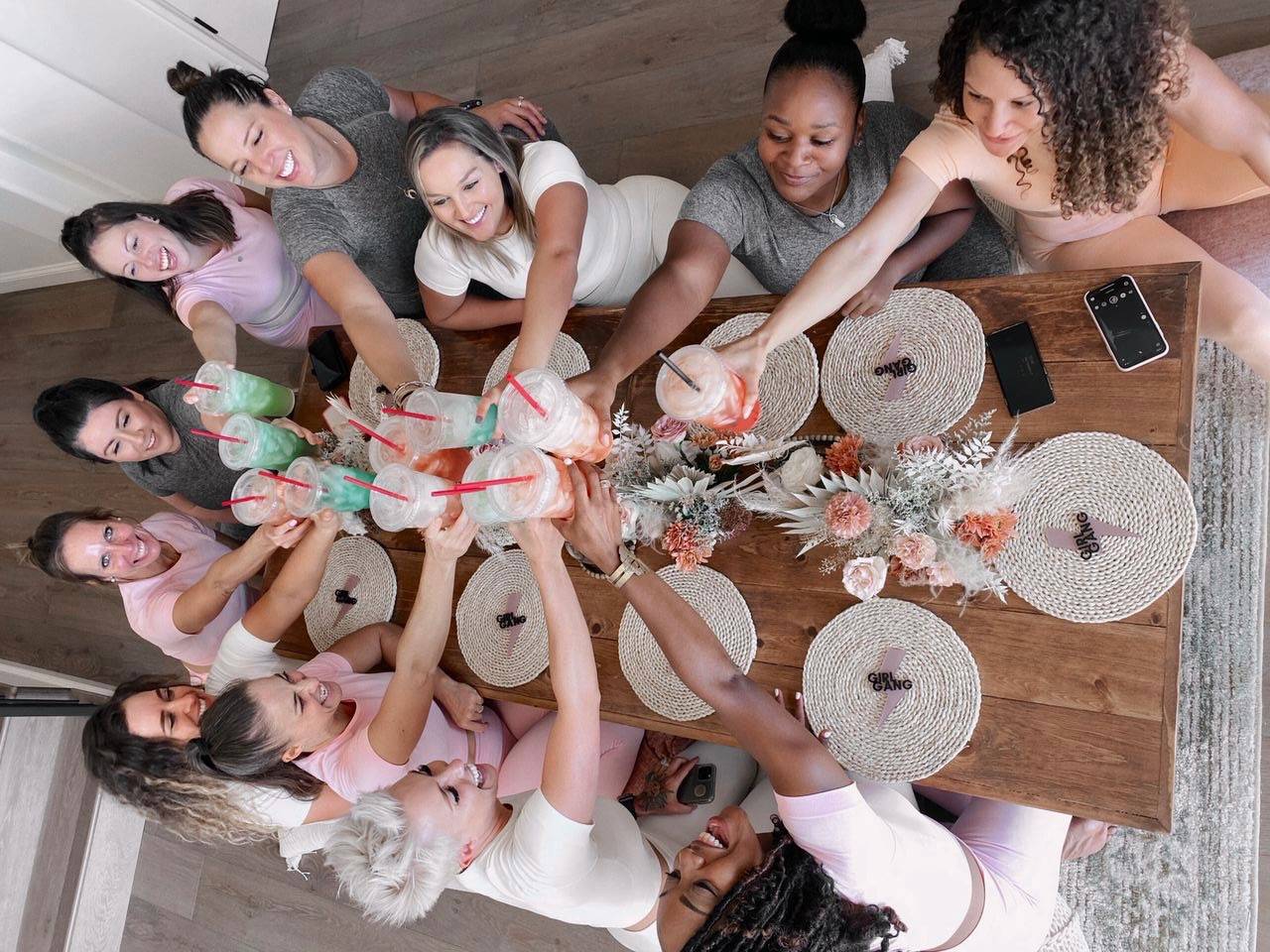 We're helping you healthify your Thanksgiving feast without complaints from Karen refusing to eat a non buttered green bean. IT'S CALLED BALANCE KAREN! Sheesh! 
With so much hype going into Thanksgiving it's almost hard to remember it is just ONE DAY! Mostly since all of our families celebrate it on multiple days. HA! Here's some tips to stay on track with your goals while enjoying your fave foods: 
1. Start with Something Light
Kicking off your meal with soup will help you slow down while eating, and research has shown it may even reduce the number of calories you consume at your main meal.
2. Pack the plate with the right veggies
Fill up 50 percent of your plate with non-starchy veggies. This may include Brussels sprouts, green beans, carrots, bell peppers, or a green salad, Stick with smaller portions of starchy veggies, such as corn, potatoes. 
3. Fill up on the skinless turkey breast
The turkey itself is relatively low in calories if you stick to skinless white meat, Protein helps keep you fuller longer!
4. Pick 2 of fav sides
Choose your favorite "special" sides that you only see around the holidays and keep servings to a half-cup. Stuffing? Worth it. A plain-old everyday roll? Not so much
5. Find a friend to eat dessert with
This way you can try a couple different festive desserts without eating a whole serving for yourself! 

What you need: 
1 head Cauliflower 
1 clove Garlic 
Butter
Salt 
Pepper
Directions:
1. Separate cauliflower into florets & cut into smaller chunks.
2. In a medium pot, combine cauliflower, garlic & enough cold water to cover the veggies. Place lid on top & bring to a boil. Reduce heat to low & cook for about 10 min or until cauliflower is fork tender. Drain!
3. Add butter or olive oil, salt, & ground pepper to taste. Using an immersion blender (or food processor), process until very smoother desired consistency. Adjust salt & pepper to taste, if necessary.
4. Serve hot just like you would serve mashed potatoes!

What you need: 
1 can Green Beans
1 tbsp Olive Oil
Sage
Orange Marmalade 
Dijon Mustard 
Dried Cranberries 
Salt 
Pepper 
Directions:
1. Steam green beans to desired doneness
2. Heat olive oil in a saucepan over medium heat
3. Add green beans & sage, & sauce for a couple of minutes to let them brown slightly
4. Stir in the marmalade, mustard, & cranberries, & season with salt & pepper.
5. Cook for another minute or two until the glaze thickens & coats the green beans!

What you need:
Whole grain bread 
Olive Oil
Red onion
Salt
Pepper
Italian turkey sausage Granny Smith apple Garlic
Low-sodium chicken broth Milk (any)
Eggs
Dried Cranberries
Sage
Rosemary
Directions:
1. Preheat the oven to 300. Spread the bread cubes out in a single layer on 2 large baking sheets. Bake for 15 min, until browned & crisp. Transfer to a large bowl.
2. Grease two 12-cup muffin tins (butter works best), or line with paper liners, then coat the liners with baking spray. Set aside. Increase the oven to 350.
3. Heat olive oil in a large skillet over medium heat. Add the onion, celery, salt & pepper. Let cook for 4 minutes, until the veggies soften. Remove the sausage from their casing & place it in the skillet. Break the sausage into crumbles, turning & sautéing the meat as you go. Once the sausage is broken up, add the apples & garlic. Let cook until the sausage is browned, stirring occasionally, about 2 additional min. Place the sausage mix in a bowl with the bread cubes.
4. In a separate bowl, stir together chicken broth, milk & eggs until combined. Pour over the cubes. Add cranberries, sage & rosemary, then stir gently with a large spoon, tossing the ingredients until they are well distributed & the bread if evenly moist.
5. Spoon the mixture into the prepared muffin tins. Firmly press down on the top & press again. Bake the stuffing muffins at 350 for 25-28 minutes, until lightly browned & set in the center. Let cool!

What you need: 
Pecan Topping
Maple Syrup
Almond Flour 
Vegan Butter 
Pecans 
Sweet Potato 
Brown Sugar 
Almond Milk 
Coconut Oil 
Cinnamon 
Salt
Directions:
1. While sweet potato is boiling, mix together 3 tbsp maple syrup, 6 tbsp almond flour, 1 1/2 tbsp melted vegan butter, 3/4 cup pecans chopped
2. Preheat the oven to 350 degrees 
3. In 4 QT of boiling water, boil the 3.3 LBS sweet potato cut in cubes for 20 min. Drain & mash
4. Add in 3 tbsp brown sugar, 3 tbsp maple syrup, 1/4 cup unsweetened almond milk, 6 tbsp coconut oil, 6 tbsp vegan butter, 1 tsp cinnamon, 1/2 tsp salt
5. Spoon mixture into casserole dish, top with maple pecan topping. Bake for 30 min

What you need: 
Unsweetened Applesauce 
Chia Seeds
Maple Syrup
Cinnamon
Almond Milk 
Apple
Directions:
1. Whisk 1/4 cup chia seeds, 1 tbsp maple syrup, 1 tsp cinnamon, & 1 cup almond milk together, set aside for 30 min to thicken!
2. Place 1/2 the amount of 3/4 cup applesauce into the bottom of your cup. Mix the remaining applesauce into the chia pudding mixture, then pout the chia pudding into the cup.
3. Chop 1 apple into cubes
4. Add your toppings! Like cinnamon & pecans! 

What you need: 
Dates
Pecans
Pumpkin Pie Spice 
Vanilla Extract 
Sea Salt
Directions:
1. Add 1 cup dates, 1 cup pecans, 1/2 tsp pumpkin pie spice, 1/2 tsp vanilla extract, pinch of salt to your food processor & blend until the nuts are well chopped & form a "dough", add tsp of water to help everything come together
2. When the ingredients are well incorporated, remove the blade from the food processor. Take 1 large tbsp of the "dough" & roll into a ball in your hands. Repeat.
3. Store in the fridge or freezer!


---